CSP – Not just another invoicing method
Microsoft CSP (Cloud Solution Provider) is a program created for Microsoft partners who want to be able to offer Microsoft's cloud services to their customers.
One of the great advantages of the program is that partners can build their own offerings by combining cloud services from Microsoft together with other services and applications. The offer is then invoiced from the partner instead of Microsoft.
The strength of CSP is that all partners can build their own offers, but it also makes it difficult to compare different offers with each other. This applies not least to the support that in the CSP program has been moved to the partner and for many customers one of the most important components in the delivery.
We at House of Clouds like transparency and have therefore developed a support plan that is both clear and competent at the same time as it is included at no cost to customers with a little more consumption. The support can also be purchased as an option for those customers who have a little less consumption but who want the security of the large company.
Below you will find our supportplan for Azure CSP: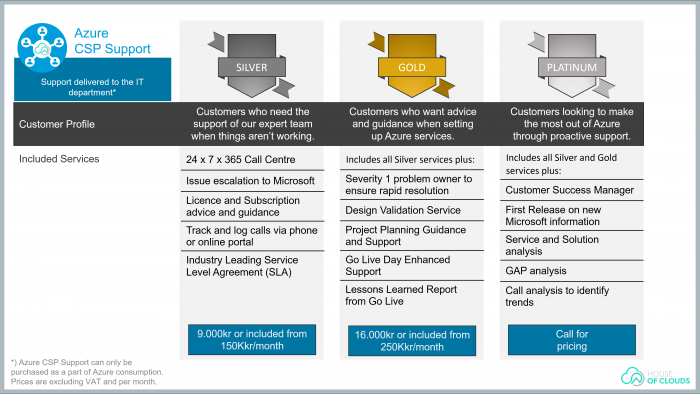 As a CSP customer to House of Clouds, you always get:
Competitive pricing
Help & support during migration and changes
Access to professional support and the possibility to upgrade according to your needs
Work with a Microsoft Gold Partner
Do you want to know more about our CSP approach? Expose your existing supplier to competition or just know more about what we can do for your company, just contact us!